HISTORY
"Corrosion of Conformity" has become Jamie Sadock's battle cry.
A New York-based designer, Sadock sets the pace for exciting golf and resort wear. The company's imaginative and colorful designs unite sports and fashion, breaking traditional fashion parameters.
This 'lifestyle' designer has brought a rock-n-roll sensibility to country clubs and resorts all over the world. Her golf clothing is known for flourishes such as hardware, beading and embroidery, normally found in high-end designer clothing.
Designed to be worn both on and off the tennis court or golf course, Sadock's innovative clothing is best known for unusual colors, great fit, unique textures, and impeccable details.
Jamie Sadock is the sportswear designer of choice for royalty, Hollywood stars, LPGA players and U.S. Presidents. Bill Clinton and George H. W. Bush selected Sadock fashions, as have Sean Connery, Sylvester Stallone, Rosie Jones and the late Prince Ranier.
An action-oriented, international company, Jamie Sadock leads in its commitment to continuously improve the nature and intrinsic value of its
offering and products in fashion collections. Since the inception of the company in 1994, sales have skyrocketed annually due to staggering sell-through at retail. Jamie Sadock creates remarkably saleable,
elegant, imaginative clothing with elan that are without peer. The runways of Europe, America and Asia, the world's fashion meccas, are loaded with collections that touch on the connection between sport and fashion. Men and women have been combining their love of sports with a new direction in fashion and have been purchasing clothing that can be worn on and off the playing fields.
Jamie has been the primary designer at the forefront of spearheading design for this lifestyle. Her collection epitomizes quality and innovation with her line
of avant-garde and performance resort sportswear. She has always been highly respected within the fashion industry for her ability to create futuristic concepts using art, unusual colors and silhouettes, and impeccable combinations, which have always enabled her designs to break through traditional parameters.
FASHION & DESIGN
Jamie Sadock is a designer of the future, a true fashion pioneer.
Many fabrics are exclusively produced for Jamie.
"MICRO ELITE" is loved for its incredibly plush, buttery feel, its exceptional durability, and features a non-wrinkle "pack and play" ability for travelers. These fabrications allow for softer silhouettes and easy wearability, all demands of Jamie's exacting standards. Her normal impeccable attention to details enables Jamie to come up with thoughtful innovative detailing such as sunglasses loops on the shirts, pockets for cell phones and even extra digital camera chips.
Many jackets, including sweater jackets, have sleeves which zip off to give greater versatility to accommodate changing weather (or fashion) conditions. And all of her Bermudas have a signature washable leather welt on the "key pocket" that thoughtfully prevents the pocket entry from getting
dirty. Lightweight rayon/cotton blend sweaters with engineered angora accents coordinate elegantly.
A notable collection includes Rex rabbit fur jackets, exceptional silk and cashmere "cover up" swing sweater jackets, gorgeous summer sweaters and versatile separates. These were created with a plethora of textures which range from engineered patterns on double mercerized cotton lisle to silky feeling airy "COOLTRON" shirts to "SUPRASUEDE," an incredible feeling, lightweight, elegant fabrication.
Accessorizing the collection is the addition of outstanding purses and comfort footwear with fantastic details such as a metal viper on a metallic leather sandal, waterproof golf/casual shoes, Aztec beaded sandals and more.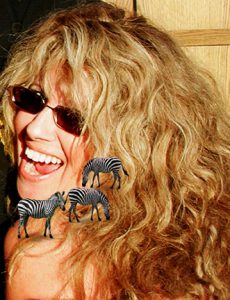 "Jamie sadock is a designer of the future, a true fashion pioneer. Jamie sadock style rocks, as she continues to make her own music, putting her artistic energy into making us all feel sensational."